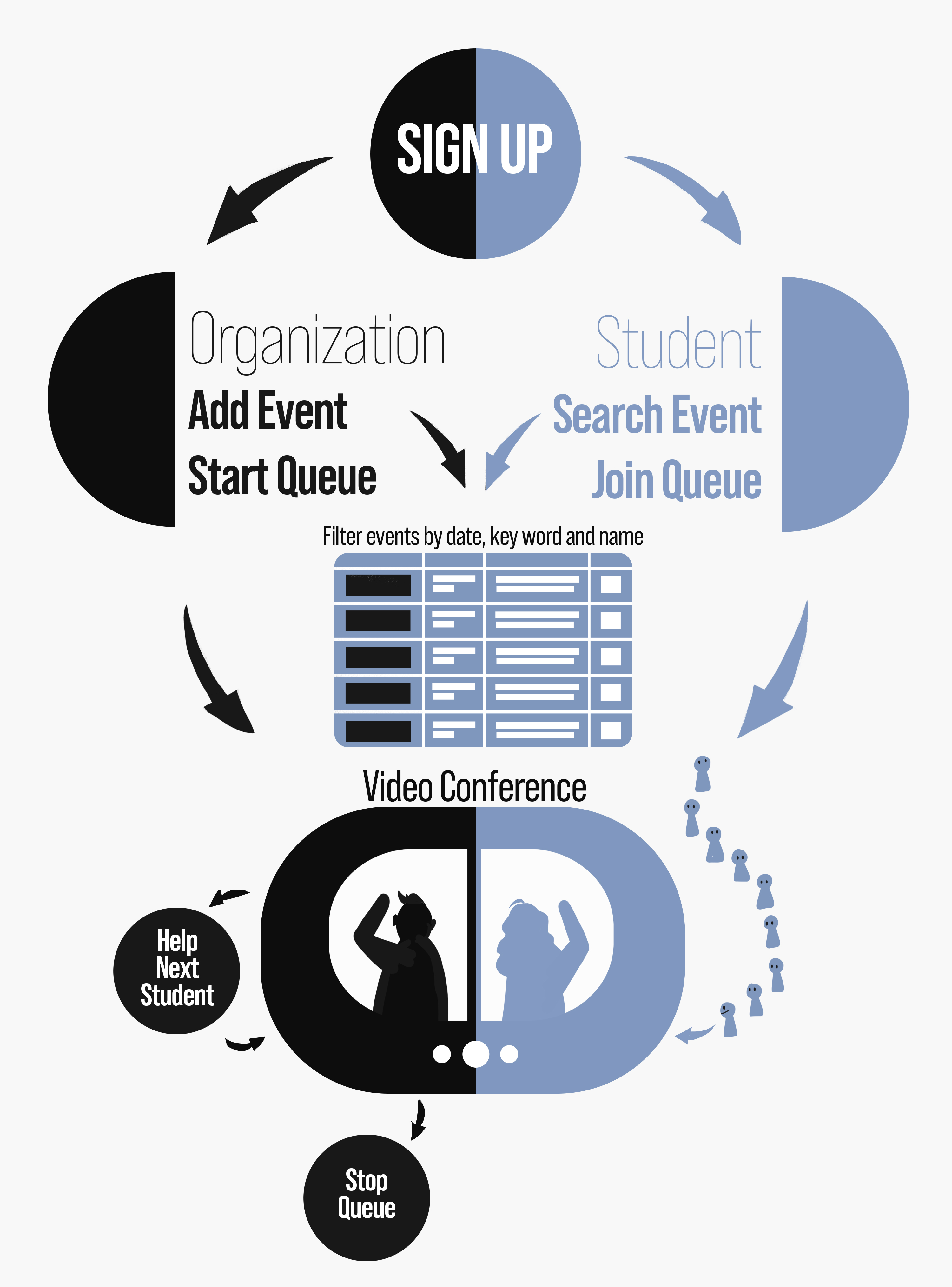 How-To
Organizations:
New organizations can sign up by filling out the registration form. Only one representative from each organization needs to sign up. There, they can add the emails of all other users that should have admin access to the organization. Afterwards, each admin will be able to edit their organization's information page, modify the admin list, create events, and edit events. Forthcoming events for an organization will be displayed on both the Home page and the Organization page.
Students:
After signing up or logging in, students will see forthcoming events from all organizations on the Home page. The default view will display the most recent events, but students can filter events by organization name or search for specific keywords. Students can use the directory that displays all the organizations by name as well. Events for a specific organization will be displayed on the Organization page as well.
---
FAQ
Resources
Product Presentation: Click here
Organization Administrator How-To Guide: Click here
Student How-To Guide: Click here
School Administrator How-To Guide: Click here
Getting an Error
Why am I always brought back to the authentication page while I sign up / log in?
Your ad blocker or other extension is blocking the platform. Disable them, refresh the page and then try again. You can also try using different browser, cell phone/laptop, or private/incognito mode.
Why am I getting an error while I sign up / log in?
Make sure you are using a .edu or .org ending Google email, not Gmail.
Why am I getting an error while registering my organization?
You can only register your organization once on the platform, so make sure no one else from your team has registered the organization already. With that, you can only register 10 organizations per email.
Why can't I create an event?
You can not create events until your organization is approved by your school administrator.
Meeting Room
Can multiple representatives have separate meeting rooms within one event?
Yes. Multiple representatives from an organization can have their own rooms to talk to students.
How does the queue feature work when there are multiple representatives for an event?
Representatives can click on "help next student" to admit the first student in line. In other words, the first student in line goes to the first free representative.
What if I only want to have one meeting room for my event?
No problem! Virtual Event allows clubs to have as many or as few meeting rooms as they want.
General
Can students be organization administrators?
Yes, students can be listed as administrators for an organization or they can start their own organization and host events when approved.
What do I need to start my own organization?
To start your own organization, simply sign up as an organization administrator and register your group! Your school administrator will approve your organization and then you can hold events on this platform. Note that students who register new organizations must be recognized representatives of their groups. Organizations created by impersonating an organization administrator violates the terms of this platform, and the entity will be banned and reported to the Office of Student Conduct.
I am a hacker. How can I help?
If you find a vulnerability, please contact us BEFORE you start exploring and we will acknowledge new, significant contributions on the website.
I have other questions or I want to get involved with this platform. How can I reach out?
We are always looking forward to hearing from our users. Feel free to email us or connect with us on LinkedIn.